Steinway Model L Tiffany Limited Edition 5'10'' Grand Piano 1999 African Pommele PianoDisc iQ
Limited edition (34/200) J.B. Tiffany-inspired design. Crafted in 1999. Commemorates the 200th anniversary of the birth of Henry Steinway.
---
---
Questions? We're here to help!
A fabulous new arrival.
This Steinway & Sons Model L was handcrafted in New York in 1999, the 34th in a limited production run of only 200 instruments commemorating the 200th anniversary of the birth of Heinrich Engelhard Steinway (1797-1871), the founder of Steinway & Sons. It was purchased new in 2004 by a private owner and is ready for a new home.
A custom plaque affixed to the treble rim and a special soundboard decal (both pictured) confirm the history and provenance of this instrument. With the closest available comparable pianos currently priced over $100,000 new, you'll undoubtedly appreciate the tremendous value of this instrument.
Like this piano? Save it as a Favorite!
---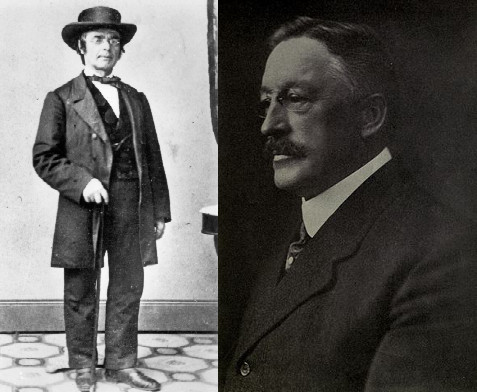 Henry E. Steinway (born Heinrich Engelhard Steinweg) and Joseph Burr Tiffany, the two individuals honored by this design.
About the Design
The truly unique design of this piano celebrates the work of the renowned interior designer Joseph Burr Tiffany (1856-1917), who led Steinway's Art Piano Department from 1897 until 1912. Tiffany's design elements are featured in many of Steinway's most famous Art Case pianos. Tiffany supervised the creation of the famous 100,000th Steinway Piano, which was presented to the White House in 1902.
A number of this instrument's decorative features echo those of Steinways produced during Tiffany's tenure, including:
Custom-cast beaded plate
Ornate carvings encircling the edge of the lid and cabinet
Alternate custom-made Victorian music desk, pictured below. Traditional music desk (as pictured) is also included with this piano.

Victorian music desk also included with this piano.
Beautiful African Pommele Sapele cabinet.
The piano's unique Pommele Sapele wood cabinet features lustrous, wavy, roe-like figures. Sapele mahogany is native to highland forests of south-central Africa.
---
About the Steinway Model L
(from the manufacturer)
The smallest Steinway concert grand piano offering remarkable depth and resonance yet requires less space than full-sized grands.
Length: 5' 10-1/2'' (179 cm)
Width: 58'' (148 cm)
Net Weight: 610 pounds (277 kg)
---
It plays itself!
We'll upgrade this piano's existing PianoDisc system to the amazing PianoDisc iQ Intelligent Player System prior to delivery, included in the sale price. Invisible, with no control box, no CD's or disks needed. Play music using your smartphone, iPad, just about any modern device you already own.