A tremendous value!
The Yamaha U1 is the world's most popular piano.  Designed to meet the needs of experienced pianists, the U1 is well-suited for home or professional use by players of every age and experience level. If you've been shopping for a U1, this is a fabulous opportunity: A beautiful natural wood-finish U1 priced thousands less than the comparable new piano. 
Fantastic condition.
This is in fantastic overall condition - the satin walnut finish is gorgeous and the brass hardware is polished and bright. The mechanical and musical aspects of this piano are equally rock-solid - we wouldn't expect anything less from a model that has one of the world's best reputations for durability and stability.
Enjoyable to play.
We found this U1 to be particularly enjoyable to play. The action is classic Yamaha - quick and light with great repetition. The tone is crisp and clear (like all Yamaha U series uprights) but with a great degree of body and fullness.  A heavier hand will produce a great powerful tone that's surprisingly big for an upright. It has a great expressive range and will speak sweetly or boldly depending on how it's played.
Rare Polished American Walnut Finish.
Yamaha pianos feature high-polished ebony finishes almost exclusively - it's extremely rare that we come across one in this attractive Polished American Walnut finish.  It's a great choice for more classic interiors and rooms where a polished black piano would be inappropriate.  It's a fantastic musical instrument in a package that is very aesthetically appealing.
Includes original matching bench
It plays itself!
This piano features the remarkable PianoDisc iQ player system, installed by the previous owner. Invisible, with no control box, no CD's or disks needed. Play music using your smartphone, iPad, just about any modern device you already own.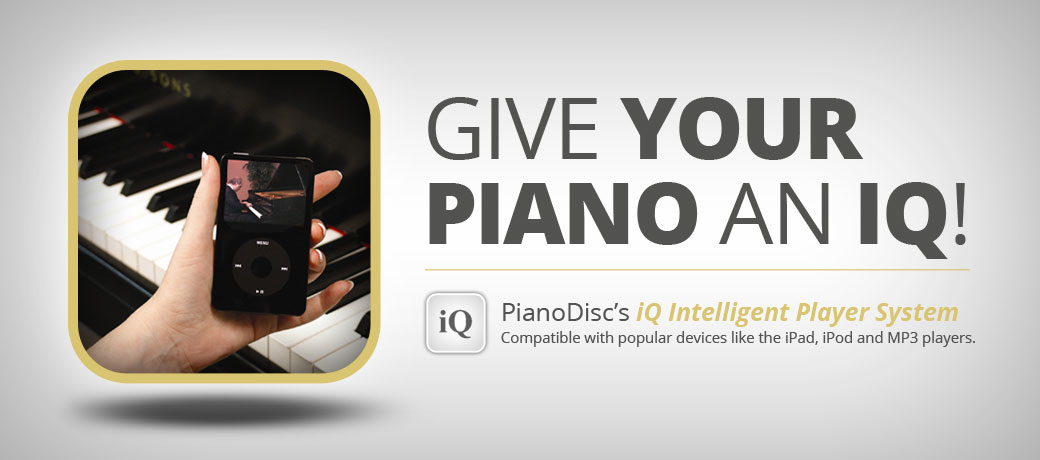 About the Yamaha U1 48" Upright Piano
(from the manufacturer)
Designed for the experienced pianist and professional musician. Upright pianos with outstanding tone, touch and durability.  A perennial favorite among discerning pianists, the Yamaha U1 offers outstanding musical performance, setting the standards by which many other upright pianos are measured.
Features
Full length ribs into a notched liner
Solid spruce soundboard and ribs
Acoustibars
Solid copper wound bass strings
Hard maple bridges
Aluminum alloy action rails
Yamaha balanced action
Spruce keys with hardwood buttons
Grand piano key travel
Cut thread tuning pins
Mute pedal
Yamaha designed hammers with T-fasteners
Polyester finish
Resin sheet foundation
Vacuum Shield Mold Process (V-Pro) plate