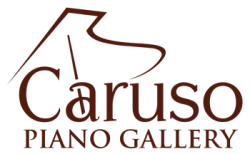 Return policy for carusopianos.com purchases.
When you purchase a piano from Caruso Piano Gallery, we make every effort to ensure that the piano you select will be appropriate for your needs. In the unlikely event that you would like to return a piano purchased from us, the following policies are in effect for pianos purchased via the carusopianos.com shopping cart.
Returns must be requested within 7 days of receipt of your piano. Buyers should call us at 800-264-6614 or email us at info@carusopianos.com to request a return authorization. No returns are accepted without prior authorization.

When we receive a return request, we will coordinate the pick-up and return shipment of the piano. After the piano arrives back at our store and is inspected, we will issue a merchandise credit equal to the purchase price of the piano less all return shipping costs. If shipping costs are included in the purchase price of the piano, returns will receive a merchandise credit equal to the purchase price less the actual costs of original and return shipping.

Pianos which have been altered or damaged (including improper service) while in the buyer's possession may not be returned.

Special orders and pianos which have been customized or modified at your request (including player system installation) may not be returned.

"Restoration Ready" pianos and items marked "AS-IS" may not be returned.

Returns are typically given in the form of a merchandise credit. Cash or credit card refunds (when requested by buyer) are available at the sole discretion of Caruso Piano Gallery and may be subject to a restocking fee of up to 20%.
Pianos purchased in-store or over the phone may be governed by a different return policy than pianos purchased directly from carusopianos.com. Please see store or ask your sales associate for these policies.