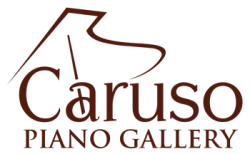 Terms of use for carusopianos.com
About your personal information.
When you make purchase from us, inquire about a product, or fill out a form on our site, your personal information will handled in accordance with our privacy policy.
Availability and accuracy of listings.
We make every effort to keep our online listings accurate and up-to-date.  That said, from time to time we may make an error in a product listing or fail to remove or mark "SOLD" on an item immediately after it is purchased.  If you purchase an item on our site which has already been sold or is otherwise unavailable, we will make every effort to cancel your transaction as quickly as possible and refund any applicable deposits.
We are not responsible for errors or omissions in our listings.
Shipping and delivery types and definitions
When shipping or delivery is specified in a piano listing, the following definitions apply:
In home ("white glove") delivery - Delivery to ground-level / first floor locations only with no significant terrain impediments to the building.
In-Town Shipping - Delivery to a pre-approved commercial location, most commonly to the closest qualified piano mover to your home. Additional charges apply for in-home delivery. 
First come, first served All pianos in our online inventory are available on a "first come, first served" basis until we receive payment.  Customers who have an interest in one of our pianos are strongly urged to place a refundable deposit on it to ensure right of first refusal and finalize payment and delivery details.  Pianos may be placed under deposit by choosing the "Hold this piano for me" link on any piano listing or by calling us at 800-264-6614.
Use of the Website By accessing the website, you warrant and represent to the website owner that you are legally entitled to do so and to make use of information made available via the website.
Trademarks The trademarks, names, logos and service marks (collectively "trademarks") displayed on this website are registered and unregistered trademarks of the website owner. Nothing contained on this website should be construed as granting any license or right to use any trademark without the prior written permission of the website owner.
External links External links may be provided for your convenience, but they are beyond the control of the website owner and no representation is made as to their content. Use or reliance on any external links and the content thereon provided is at your own risk.
Warranties The website owner makes no warranties, representations, statements or guarantees (whether express, implied in law or residual) regarding the website.
Disclaimer of liability The website owner shall not be responsible for and disclaims all liability for any loss, liability, damage (whether direct, indirect or consequential), personal injury or expense of any nature whatsoever which may be suffered by you or any third party (including your company), as a result of or which may be attributable, directly or indirectly, to your access and use of the website, any information contained on the website, your or your company's personal information or material and information transmitted over our system. In particular, neither the website owner nor any third party or data or content provider shall be liable in any way to you or to any other person, firm or corporation whatsoever for any loss, liability, damage (whether direct or consequential), personal injury or expense of any nature whatsoever arising from any delays, inaccuracies, errors in, or omission of any share price information or the transmission thereof, or for any actions taken in reliance thereon or occasioned thereby or by reason of non-performance or interruption, or termination thereof.
Conflict of terms If there is a conflict or contradiction between the provisions of these website terms and conditions and any other relevant terms and conditions, policies or notices, the other relevant terms and conditions, policies or notices which relate specifically to a particular section or module of the website shall prevail in respect of your use of the relevant section or module of the website.
Severability Any provision of any relevant terms and conditions, policies and notices, which is or becomes unenforceable in any jurisdiction, whether due to being void, invalidity, illegality, unlawfulness or for any reason whatever, shall, in such jurisdiction only and only to the extent that it is so unenforceable, be treated as void and the remaining provisions of any relevant terms and conditions, policies and notices shall remain in full force and effect.
Applicable laws (choice of venue and forum)—Use of this website shall in all respects be governed by the laws of the state of Connecticut, U.S., regardless of the laws that might be applicable under principles of conflicts of law. The parties agree that the Connecticut courts located in New London county, Connecticut, shall have exclusive jurisdiction over all controversies arising under this agreement and agree that venue is proper in those courts.
About the piano buying process.
Buying and shipping a piano is a highly personal and multifaceted process; as such many aspects of the piano buying and delivery process fall outside the reasonable scope of an ecommerce site's ability to relay information and assess costs.  Therefore we strongly encourage customers to contact us in person, by phone at 860-442-9600, or by email at info@carusopianos.com before you make a purchase.
By purchasing a piano on our site (whether or not you contact us in advance), you acknowledge that additional charges not specified on our site may apply (delivery and otherwise) for us to make a safe and successful delivery to your location.  You will have the option of accepting or declining the full delivered price of any piano purchase at no obligation before a sale is finalized.
Order fulfillment.
Because piano purchasing and delivery is not a "one size fits all" process, we reserve the right to cancel or decline to fulfill any online order at our exclusive discretion for any reason. Most commonly this will occur when we feel that we are unable to accomplish a successful delivery at a cost that will be acceptable to you. You will not be responsible for any charges incurred from an order cancelled by us and your credit card (if provided) will not be charged.
About piano delivery.
Unless otherwise noted in a particular piano's listing, delivery is an additional charge which varies according to your location. Piano delivery quotes are generally given on a case-by-case basis. Contact us for a customized quote for your specific circumstances.
Accepted payment methods.
We accept cash, check, and bank wire transfer for all piano purchases. Financing is available for all pianos on approved credit.
Credit cards are accepted on a limited basis at our exclusive discretion and are subject to geographical and dollar-amount limitations. At our discretion, we may or may not accept up to 100% of the purchase price of a piano listed on our site. In cases where we cannot accept a credit card for 100% of the purchase price, we will charge a refundable deposit on your credit card with the balance due by cash, check, wire transfer, or financing.