Whether you are a serious musician or just learning to play, the way to get the most from your piano is simple: make sure it's equipped with PNOscan.  Because only pianos with PNOscan, an optical sensor strip that converts your performance to digital information, can open up a world of connectivity and ways for you to use your piano.  With PNOscan you get all the features and benefits of a digital piano combined with the sound, beauty and lasting value of an acoustic piano.  All without affecting the appearance, touch and feel of the piano in any way.
Along with PNOscan, your piano will have discreetly hidden USB and MIDI ports that allow you to connect your piano to the Internet (using your laptop) or a MIDI device.
Unparalleled versalitility: Learn to play, compose music, practice and record, email your performances, entertain and educate your kids.
Unparalleled Versatility
With a PNOscan-equipped piano and your laptop you can:
Learn to Play
By connecting your piano to your laptop's USB port, you can access the lnternet and choose from hundreds of software programs designed to teach you to play. Now you can learn at your own pace, when it's convenient for you and in the privacy of your own home. What could be easier?
Compose Music
You can compose everything from simple songs to multi-track arrangements using PNOscan along with sequencing software.
Practice and Record
Students can record their practice sessions and play them back on their computer. Hearyour child's improvement over time, monitor their practice even if you were out while they played, or submit practice sessions to their piano teacher for review. You can even record family and friends and make your own CDs!
Email your Performances
Email performances to the grandparents, friends or your piano teacher using your laptop.
Print Sheet Music
Our digitized keystrokes can easily be converted to standard music notation and printed out using your computer and printer.
Entertain and Educate Your Kids
Piano software especially designed for young children, such as MiDisaurus and Piano Wizard, incorporate games and activities that make learning fun.
Customized bundles to suit your needs.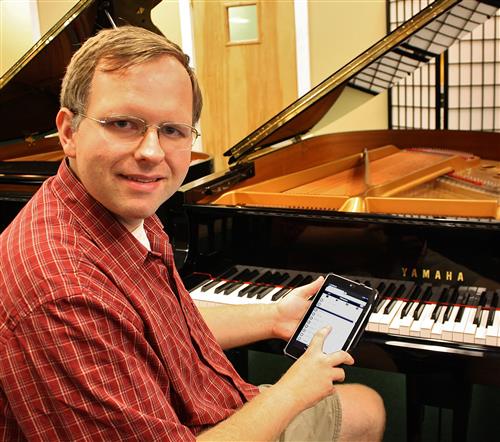 We're here to help!  Contact Brian Biddle, our Piano Technology Specialist.  We'll help you choose the right bundle to fit your specific needs.  Just call or email us, we'll get to work for you.
PNOscan Basic Bundle
Includes the PNOScan optical sensor system, giving your piano USB and MIDI connectivity.  Connect to your computer to compose music, record your performances, learn to play the piano with the software program of your choice.
PNOscan Silent Practice Bundle
Practice in silence: Practice in complete privacy without disturbing others.  Includes the PNOscan optical sensor plus...
Key Stop Rail: Silences the acoustic piano sound completely while letting you play normally.
Piano Practice Module: High quality sampled piano engine reproduces your performance digitally.
Headphones.
Add PNOmation II for record and playback
Your piano plays itself, records, saves and plays back your performance with the addition of the PNOmation II player system.   Transforms any piano into an iPad-ready, wireless smart home entertainment device. Listen to beautiful piano music anytime you want, produced live at your piano with real moving keys. An included speaker gives you live vocal and instrumental accompaniment.