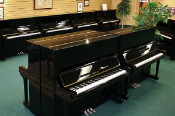 Just Arrived: More than 30 amazing Yamaha upright pianos!
They're here, and they're gorgeous!  34 more Yamaha pianos have been unloaded at our Main Showroom in New London, Connecticut, and are ready for your listening and playing enjoyment.
One "Done and Delivered" price, safe and reliable, no surprises, local or nationwide.
Live close enough to visit us? Enjoy the amazing experience of trying not just one or two, but rows of beautiful Yamaha pianos all at the same time in the same space. Compare and contrast tone and touch side-by-side, pick out just the right piano for your tastes. Take advantage of some of the best selection in the Northeast right now.
Can't visit us? Benefit from our knowledge and expertise, wherever you live. If you can't visit us, tell us your musical preferences and we'll select the best piano for you.  Long-distance delivery is safe and reliable.